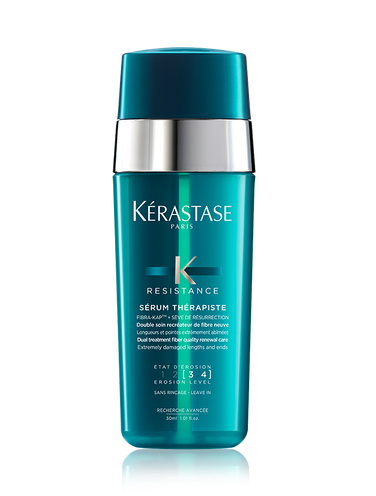 This week's Beauty Buzz of the Week goes to my favorite hair serum, the Kérastase Résistance Sérum Thérapiste. If you've been following me on Instastories you know that I am newly obsessed with Kérastase and my new favorite hair serum. It all happened after I did the Fusio Dose treatment during fashion week.
This was the best hair treatment I have ever had. The first step of the treatment is analyzing your hair. They take photos of your hair with this super cool handheld machine and show you a close up look of your strands of hair and explain the damage. It's honestly crazy! From those results they determine your perfect match and which product line works best for your needs. I needed the "reconstruction" which is the green line. This makes total sense since I'm always coloring, waving, blow drying, etc. I was a little hesitant to see if this would actually work but it honestly did. My hair had never felt or looked better. I know that sounds really dramatic but it's honestly true. It was full of body, bouncy and so soft. It's honestly mind-blowing how well this treatment works.
So what does this have to do with the Kérastase Résistance Sérum and why is it my favorite hair serum? Well I wanted to keep my hair looking as good as it did after the treatment all the time so I tried a few Kérastase products from the Résistance line which is what was recommended after the treatment. I have so many favorite products that I will be sharing with you but I wanted to start with the Kérastase Résistance Sérum Thérapiste first. This serum is for damaged and over processed hair (literally made for my hair). I use a pea size amount when I get out of the shower on towel dried hair before blowdrying or letting it air dry. It honestly makes a huge difference. My hair is softer and both straightens and waves better depending on what I decide to go with. You can also use it on dry ends as well. This might be my favorite hair serum or even product of all time.
Shop Kérastase Résistance Sérum: