I had the pleasure of being introduced to Stephen Wilson a few months back and was so happy to hear that he was interested in working on a custom piece. His work just spoke to me. It was inspirational, unique and eye-catching. Stephen Wilson takes luxury boxes and works with different thread, fabric, sculptural 3D printing, laser engraving, and paint to create beautiful pieces of art. Each piece is truly unique and the details are breathtaking. As someone inspired by fashion, I was drawn to the uniqueness he created through luxury boxes.
I spoke to Stephen Wilson on the phone and described my apartment aesthetic as classic luxury. He incorporated these elements and created the perfect piece. I'm going to break down his process below and also share with you a quick interview to help you get to know Stephen Wilson better. He truly is beyond talented.
Ideation and Design:
The first step was to pick out my box. This was really hard for me but I decided on Chanel just because it's so classic and I knew it would be timeless. With my guidance and aesthetic preferences,
Stephen
created a design that evokes the feeling of Chanel- chic, classic, luxurious, and ultra-femme. He used different colors (blush, rose, mauve, white), textures (crushed velvet, leather, flokati fur –) and imagery like chandeliers.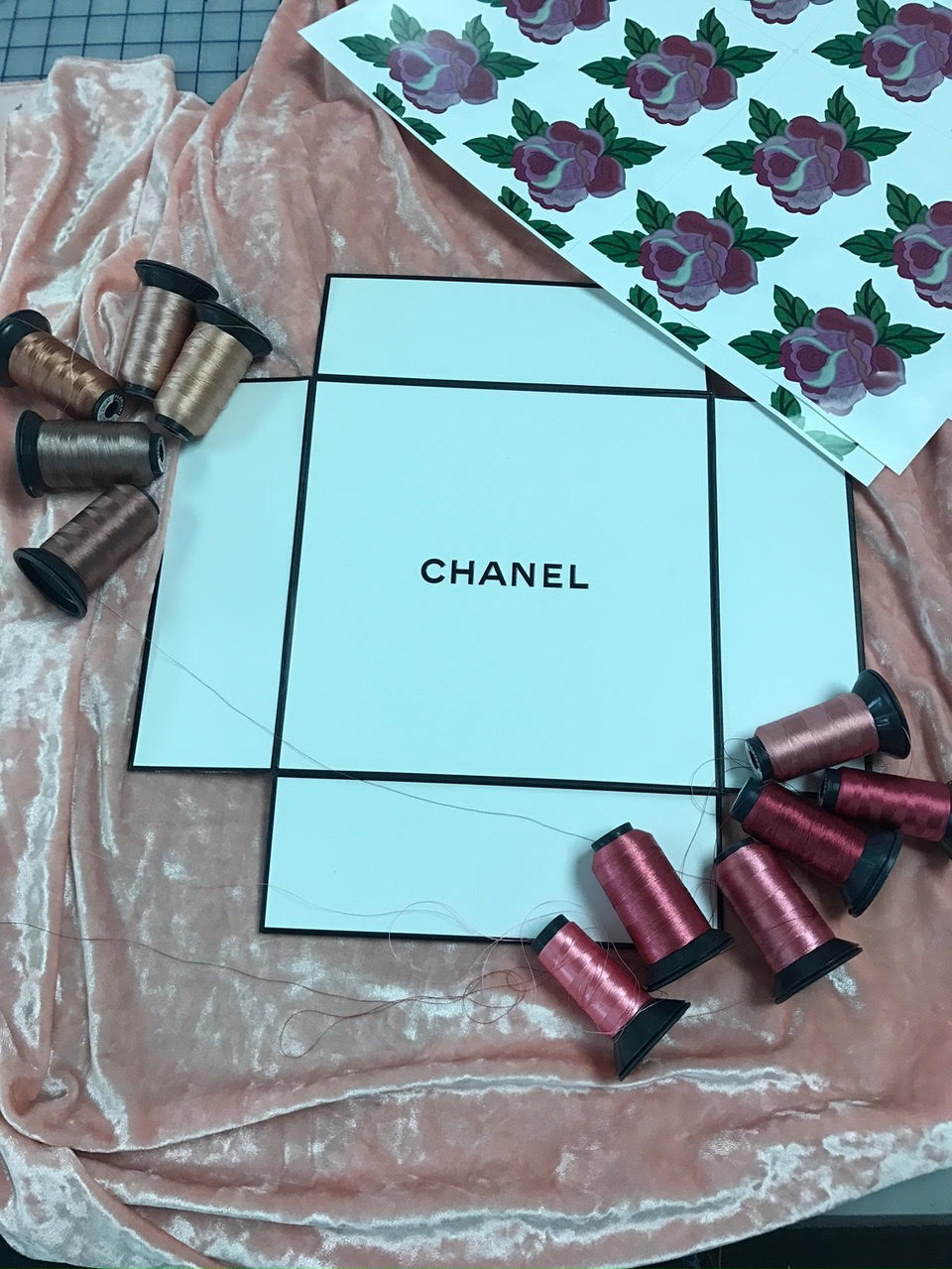 Digitization:
Stephen
uses a high-tech embroidery digitization software program to "sketch" the chandelier motif. With this program he hand draws every embroidered stitch, from placement to thread color. This digitized sketch is then programmed into the embroidery machinery and the specific threads are selected and loaded. Using the Chanel box as the canvas, the machine takes each stitch and brings it to life.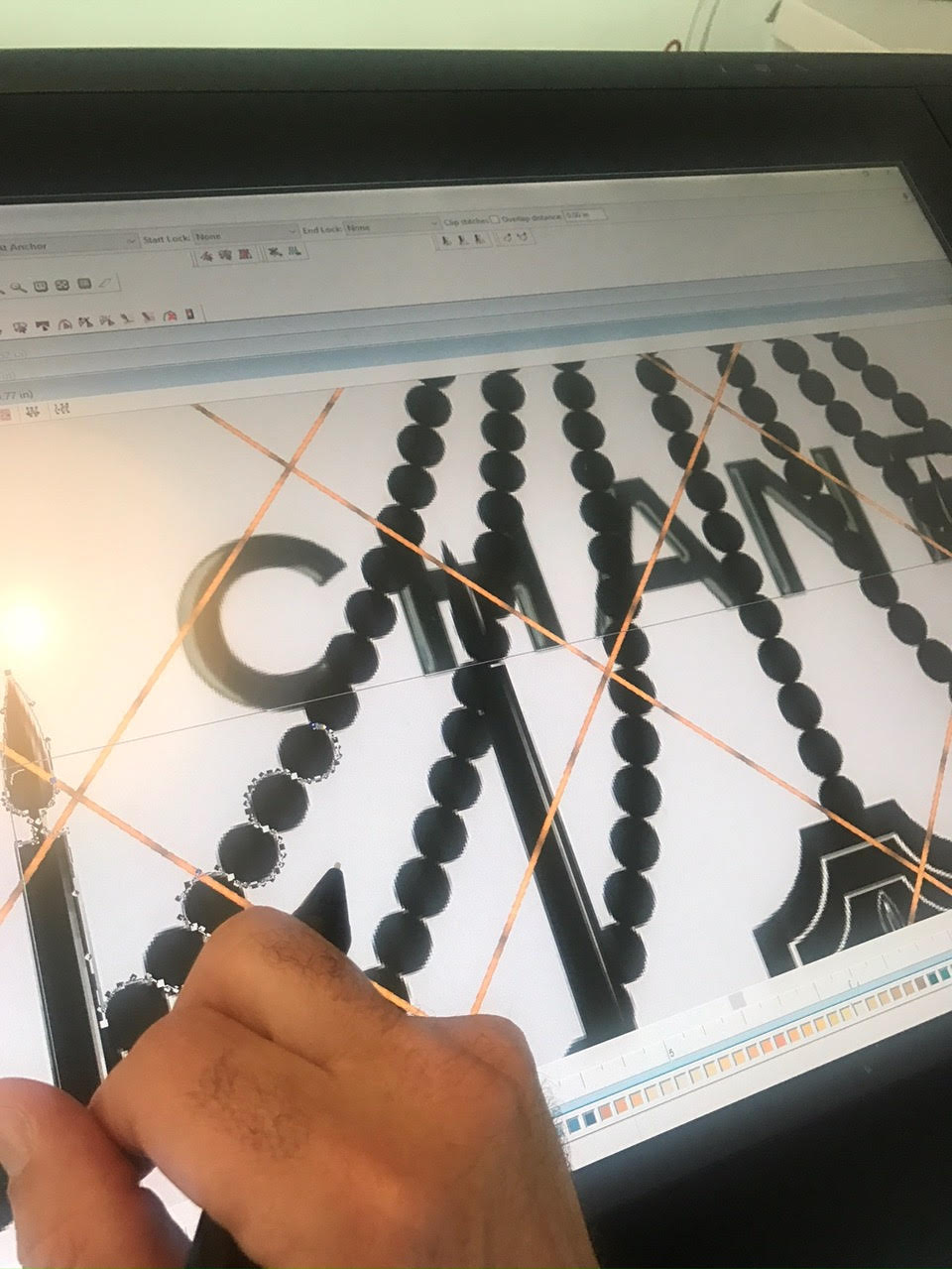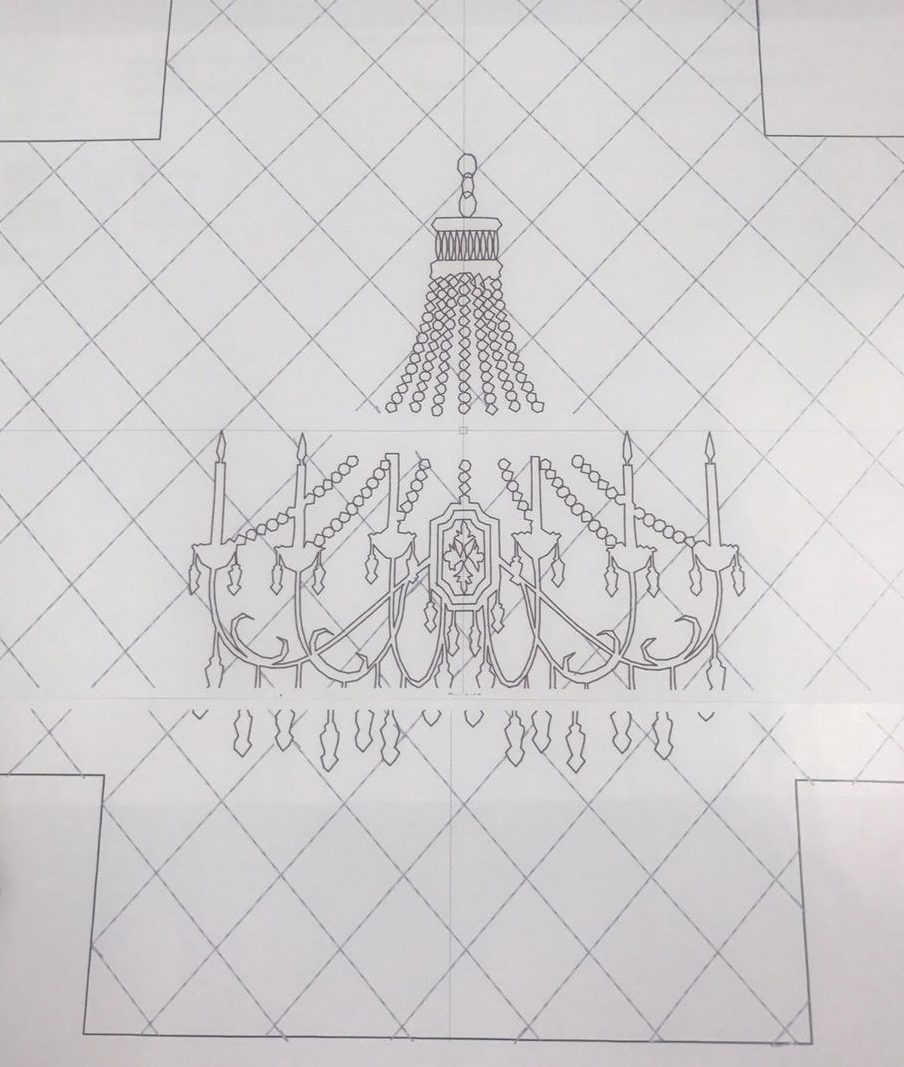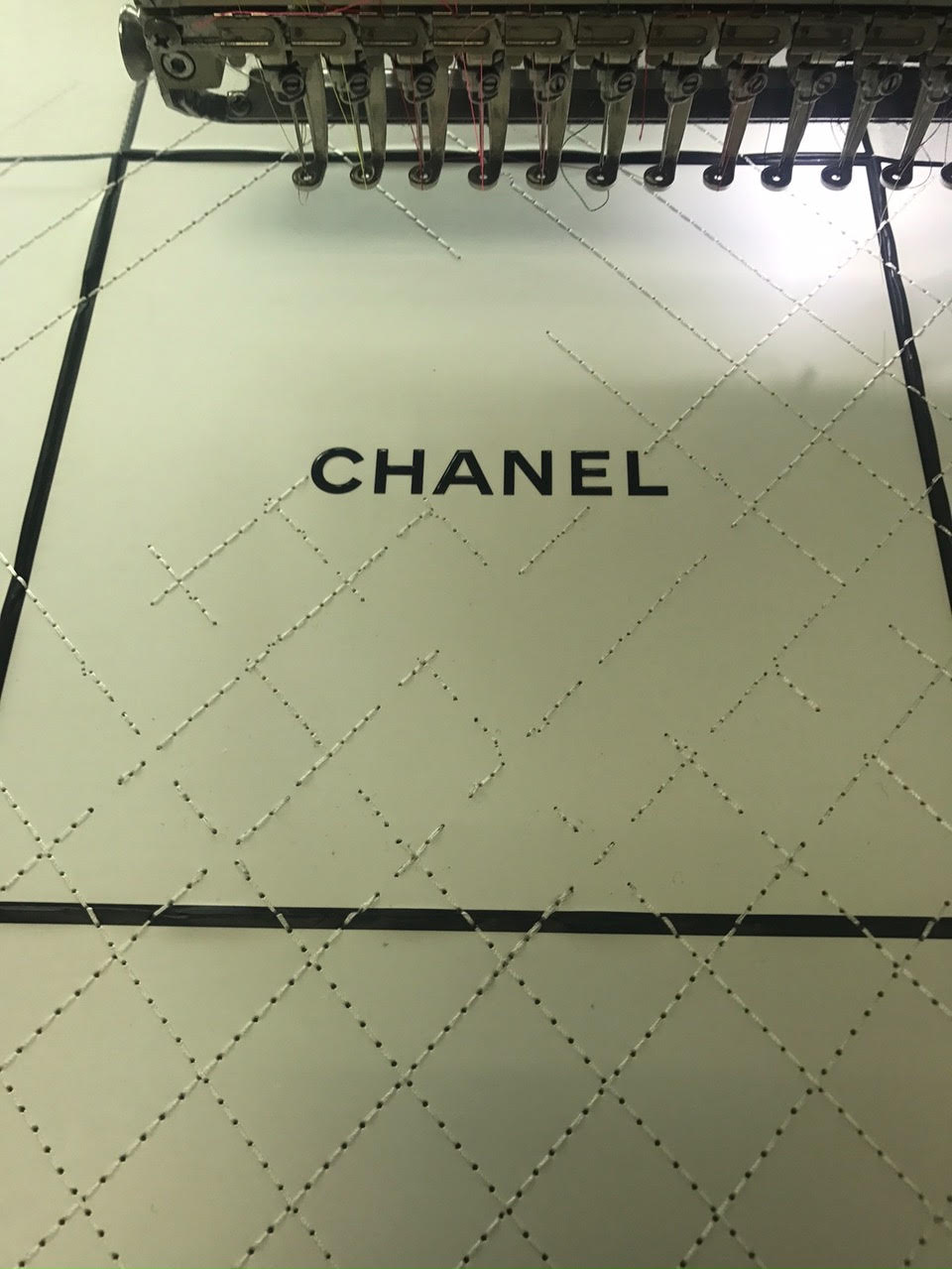 Fabrication:
 Now that the chandelier is embroidered onto the box,
Stephen
worked on putting it all together with the other elements. He played with the textural qualities, like applying a quilting technique to crushed velvet and leather, or mashing up textures like flokati fur against metallic papers.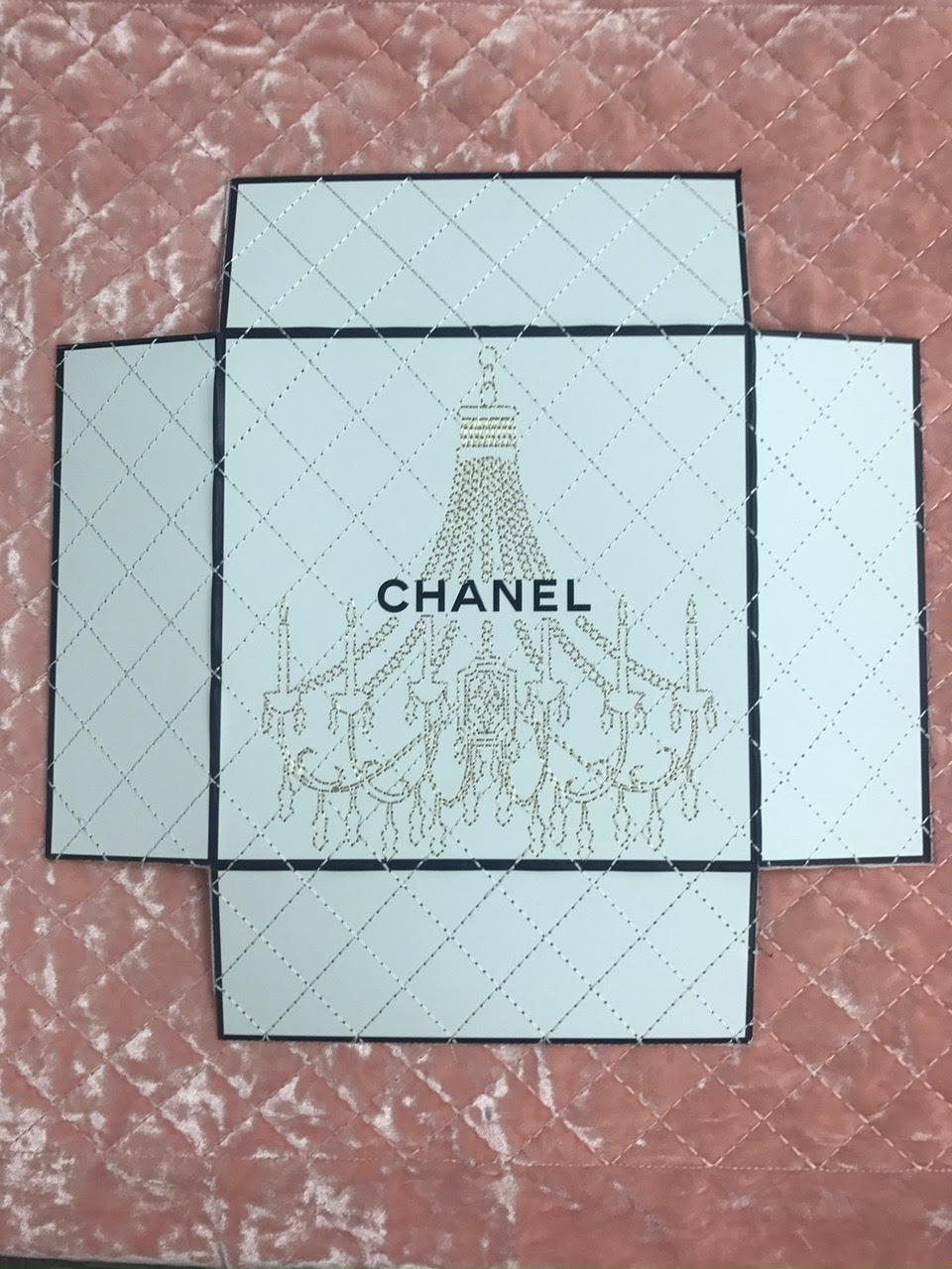 Finishing Touches: The details in the stitching are amazing and the gold butterflies are beautiful. I love that the piece is mounted against the pale pink background surrounded by the white faux fur. This final stage really brings the piece to life.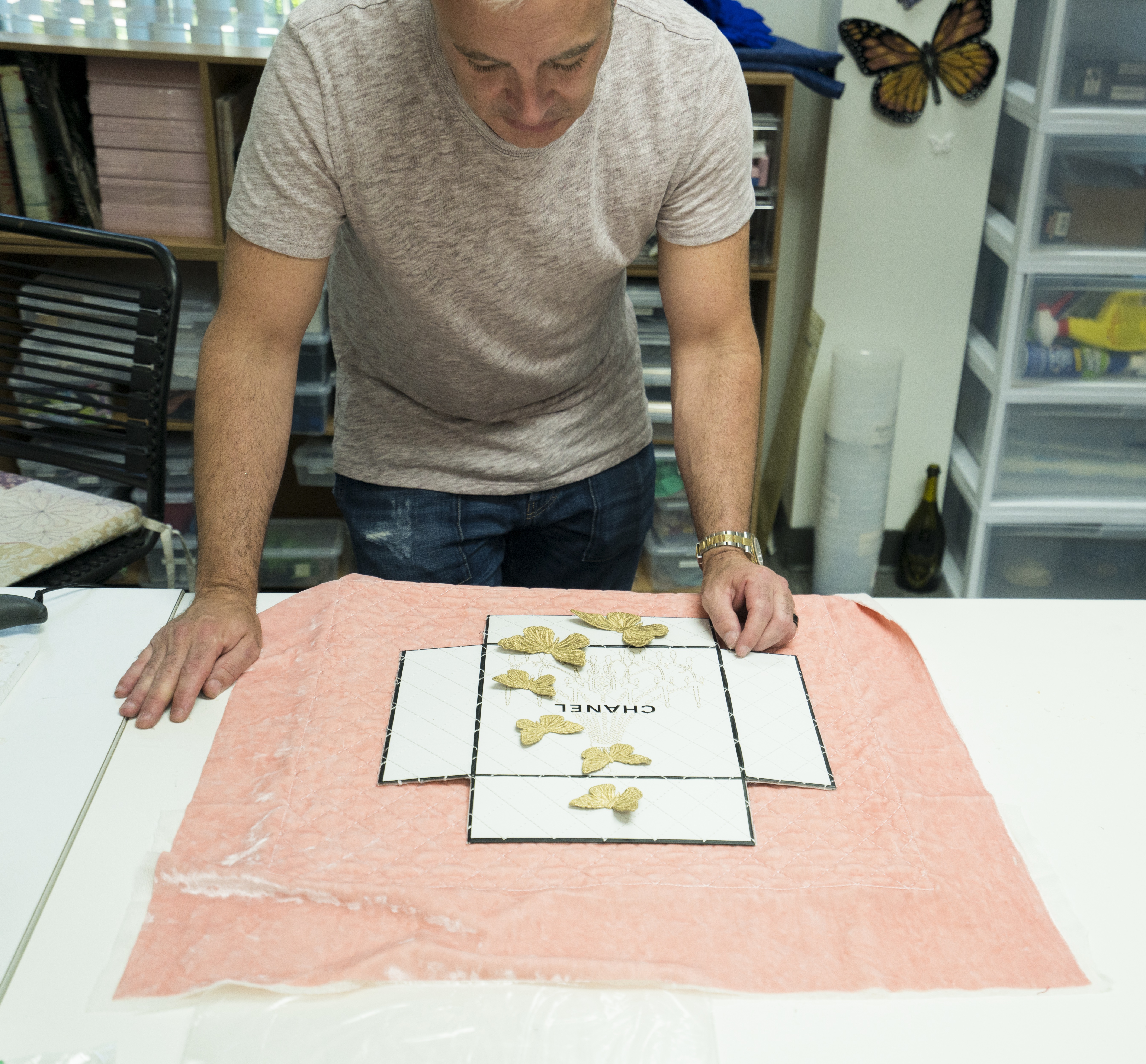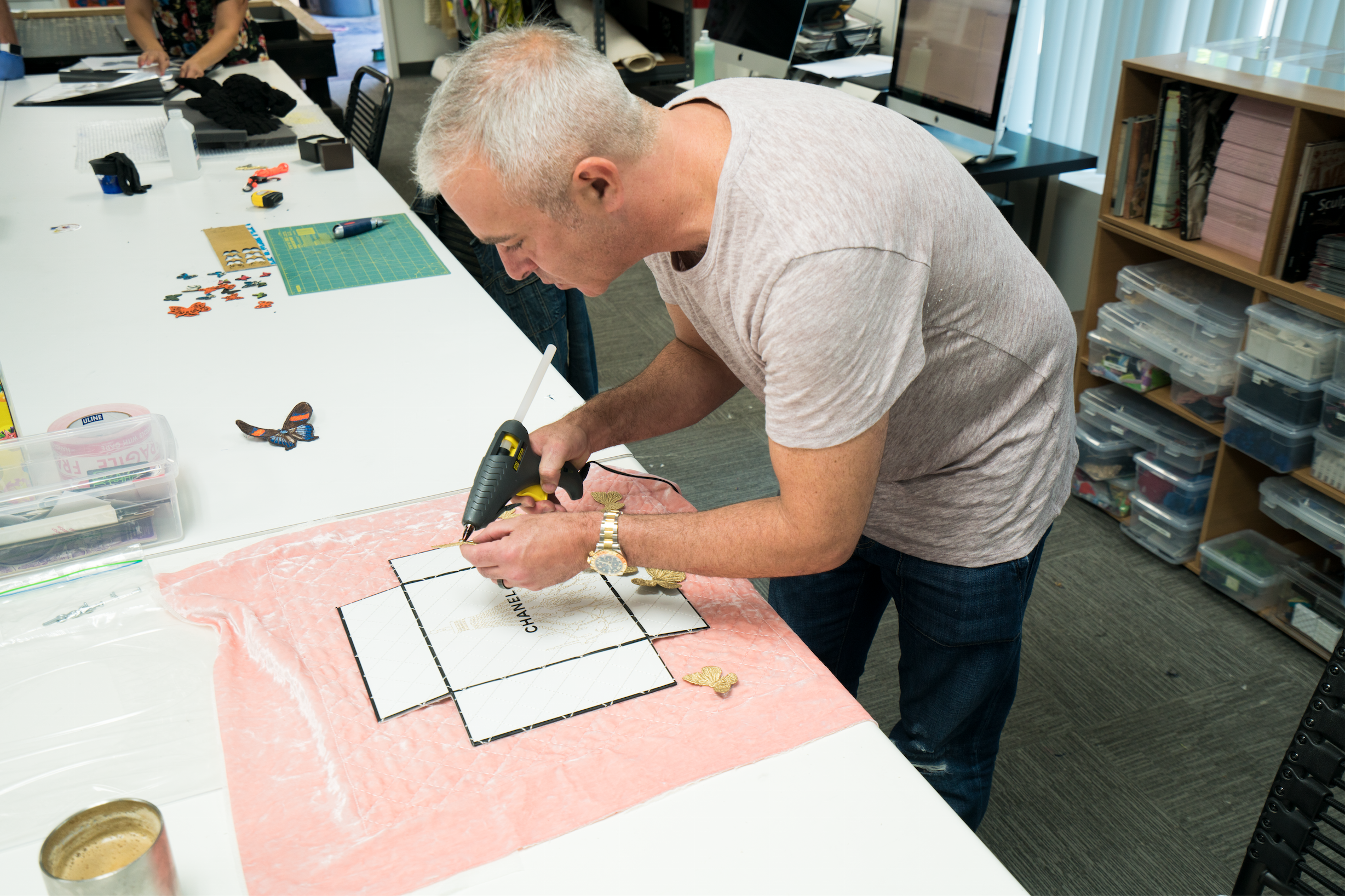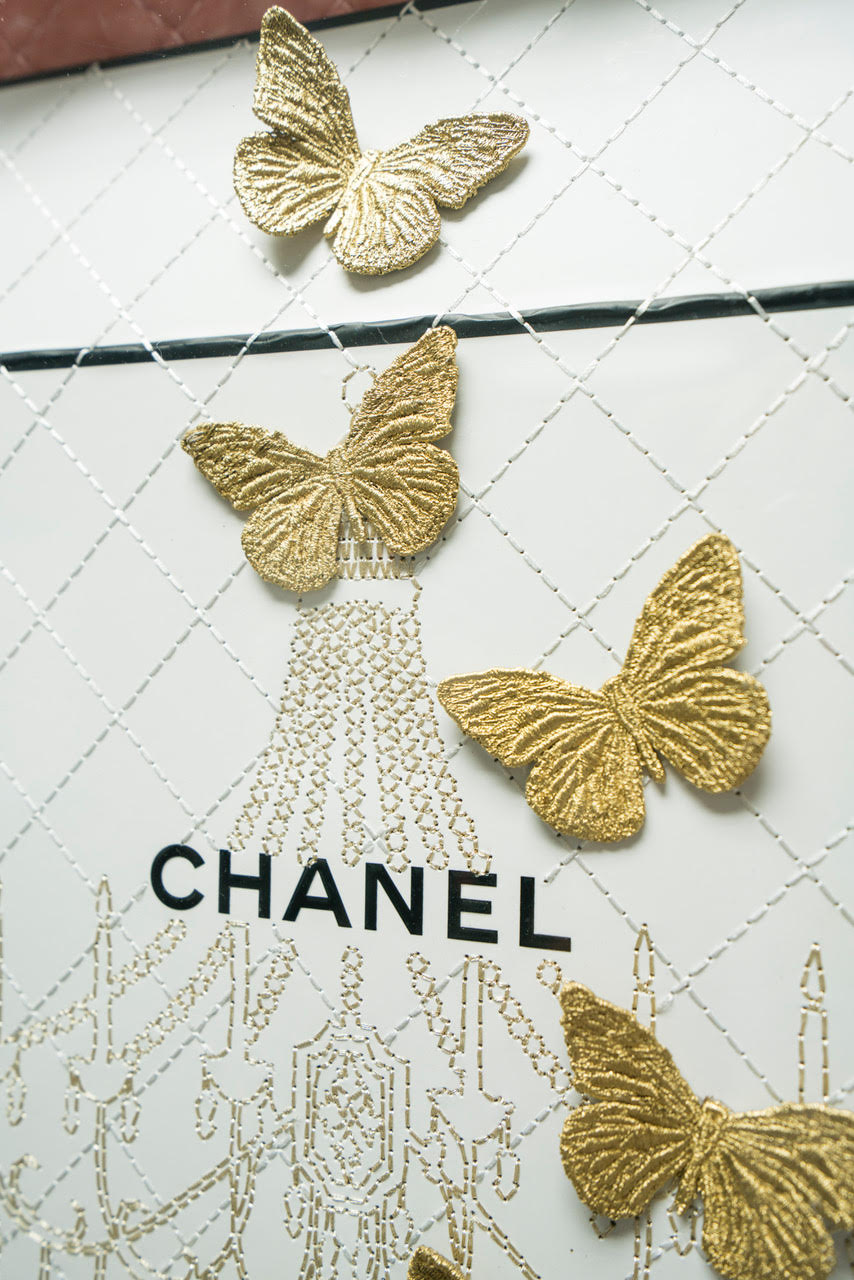 Mounting:
 After the work is complete,
Stephen
usually lets it settle for a few days and often returns to the piece to make little tweaks. Once he is happy with it, the art work gets mounted into a custom frame. The frame is ordered to custom specifics and built to optimally frame the unique work. The mat is a specially treated material that is safe to come into contact with paints, adhesives and other pigments and will not damage the artwork over time. The artwork is actually mounted on the back of the box itself, with some wood additions to give it support. This adds dimension, visual interest, and context to the artwork, keeping the original box structure in mind.
The finished product!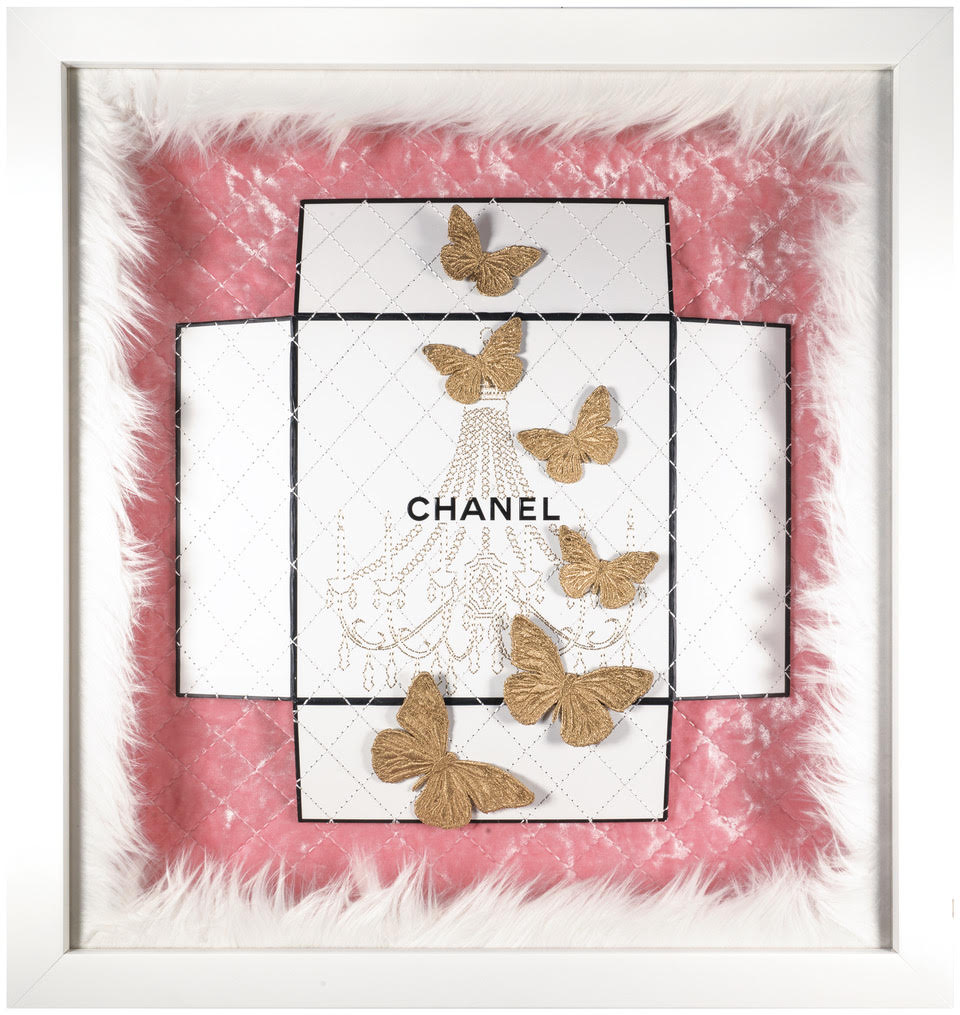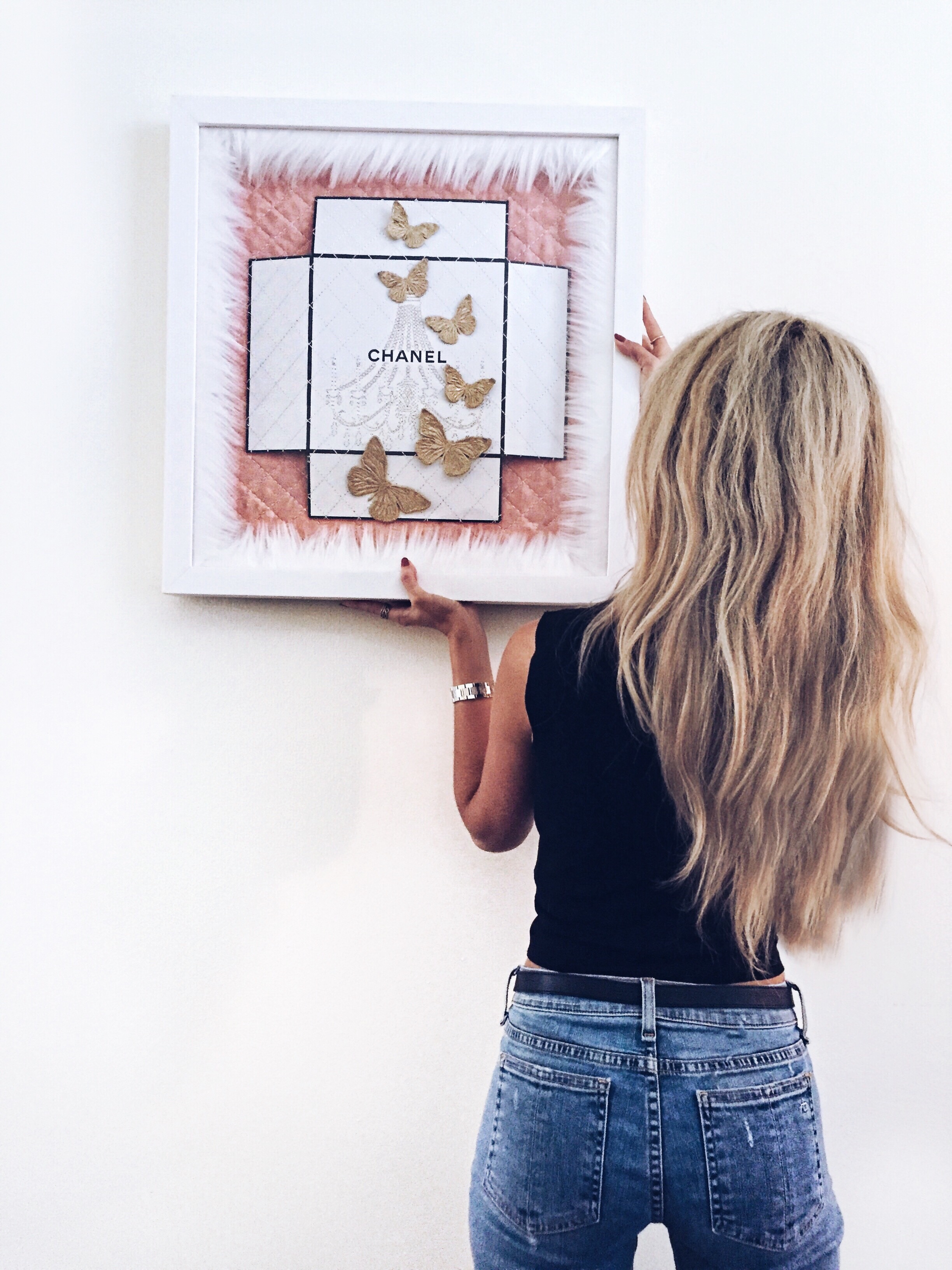 I honestly couldn't be happier with the piece. It's absolutely beautiful and such a lovely addition to my home. Stephen is truly so talented and it made me want to learn more about this thought process and how he makes these pieces come to life. I wanted to be sure to include a few of these questions below so you can get to know Stephen too.
Get to know Stephen: 
 How do you decide what to create next?  Usually I'll work in a new direction for several pieces. This direction could be unified in theme or inspiration or even materials, like I will do a group of work all using leather or velvets or fur. Of course, sometimes it's a often an unplanned or last minute decision- whatever vibe I'm feeling.
Where do you go for inspiration? I get inspiration from going and seeing work, I'm always going to galleries, fairs, and museums. I'm also really inspired by fashion designers and shopping at luxury stores. I think Instagram is great but I get don't really get inspired from looking at Instagram, I think to become inspired you have to actually go and see.
Who is your favorite designer? Gucci- easy. He doesn't push the envelope, he crashes through it. So many designers play it safe.
Favorite piece of all time? It's hard to look at my own work and choose… maybe the big exploding butterfly. I think it's impactful. (See below)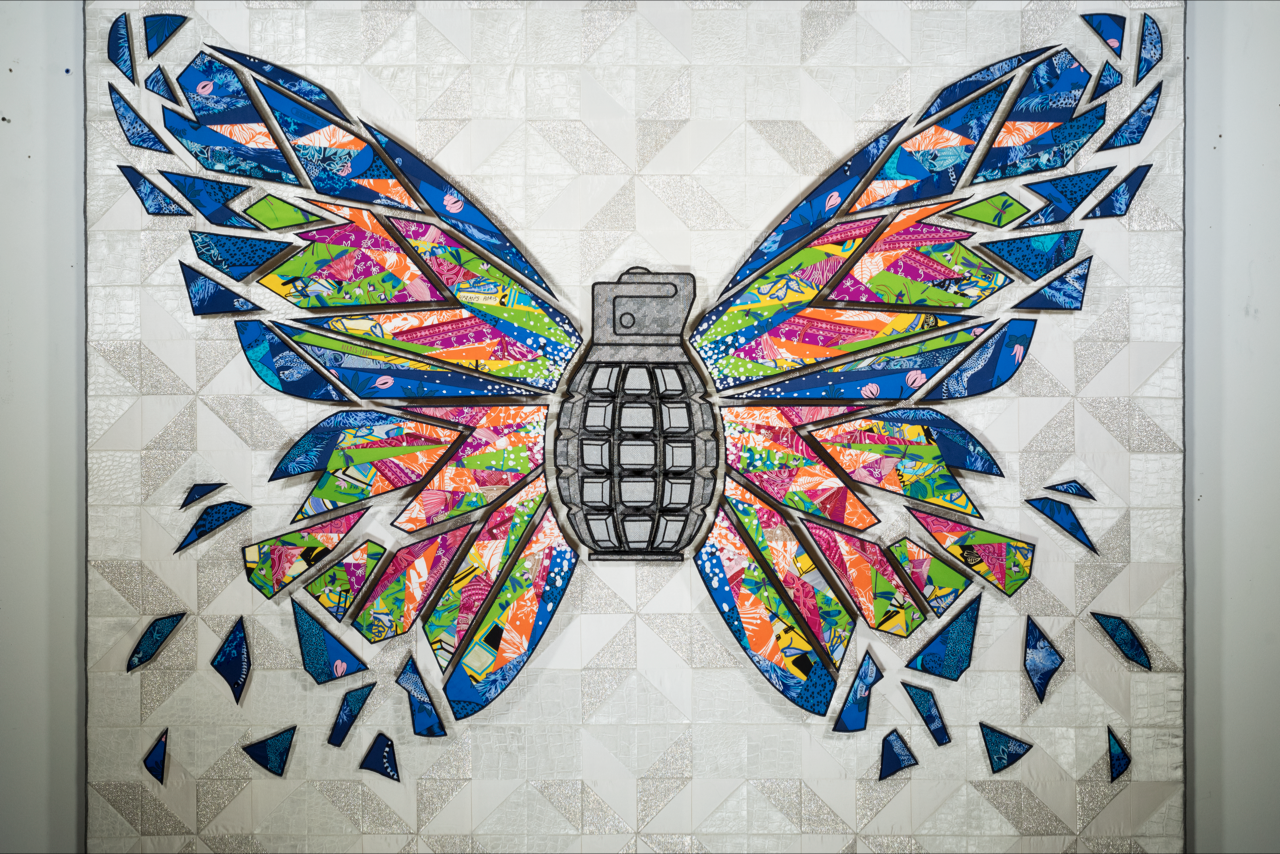 I honestly can't get over how amazing this piece is. I want to thank
Stephen
and his team for not only creating this piece for me but sharing the creative process with me. The creative process makes me appeciate the finished piece even more. It's amazing to see
Stephen's
vision come to life. I would never look at a box and think I can turn it into something amazing but that's exactly what he did.
I know this is a long post but I couldn't end it without sharing with you a few of my favorite Stephen Wilson creations below. Honeslty it changes everyday though. He's always coming up with fresh and innovative designs. You can see all of his pieces
here
and also
here.