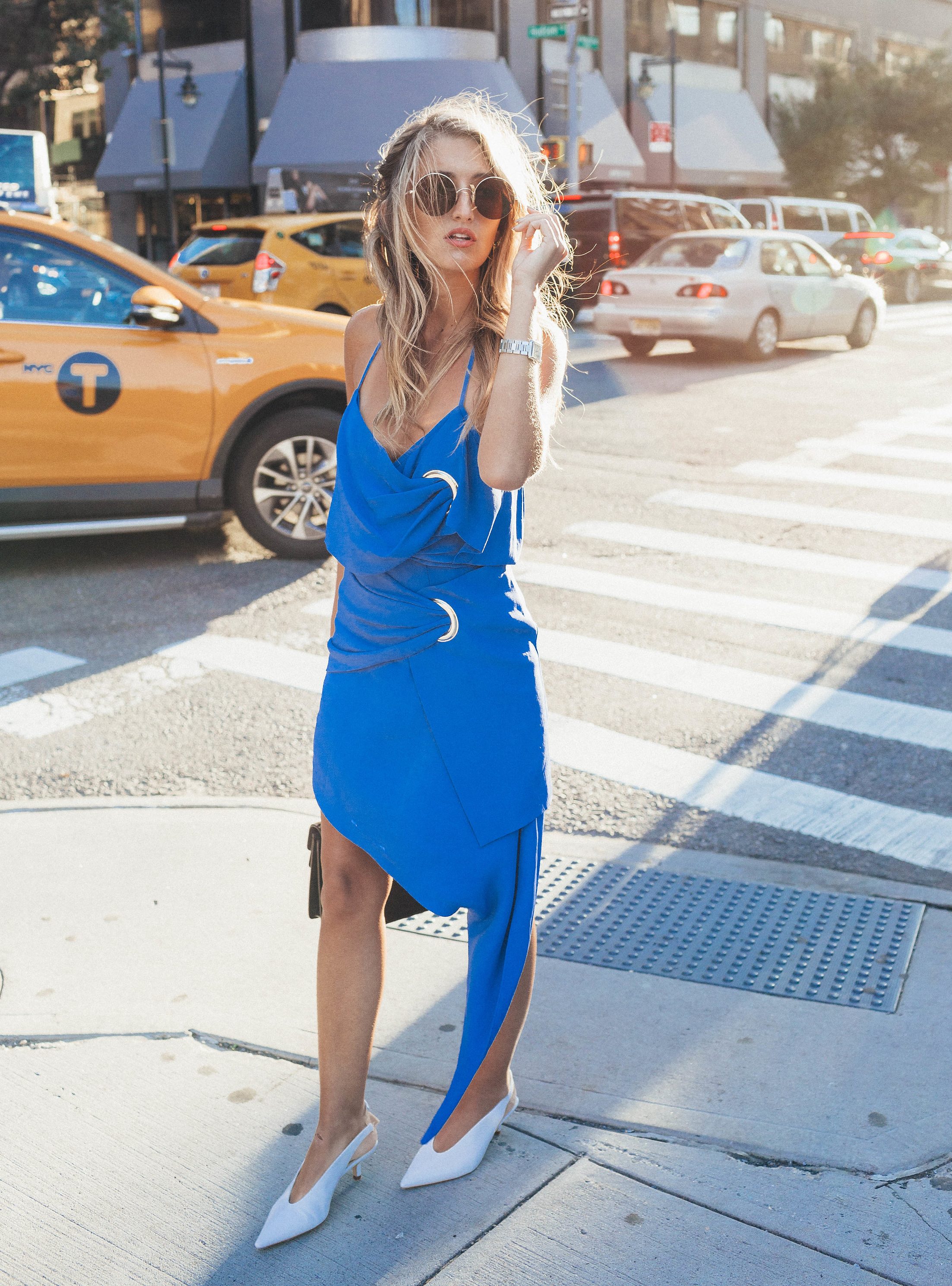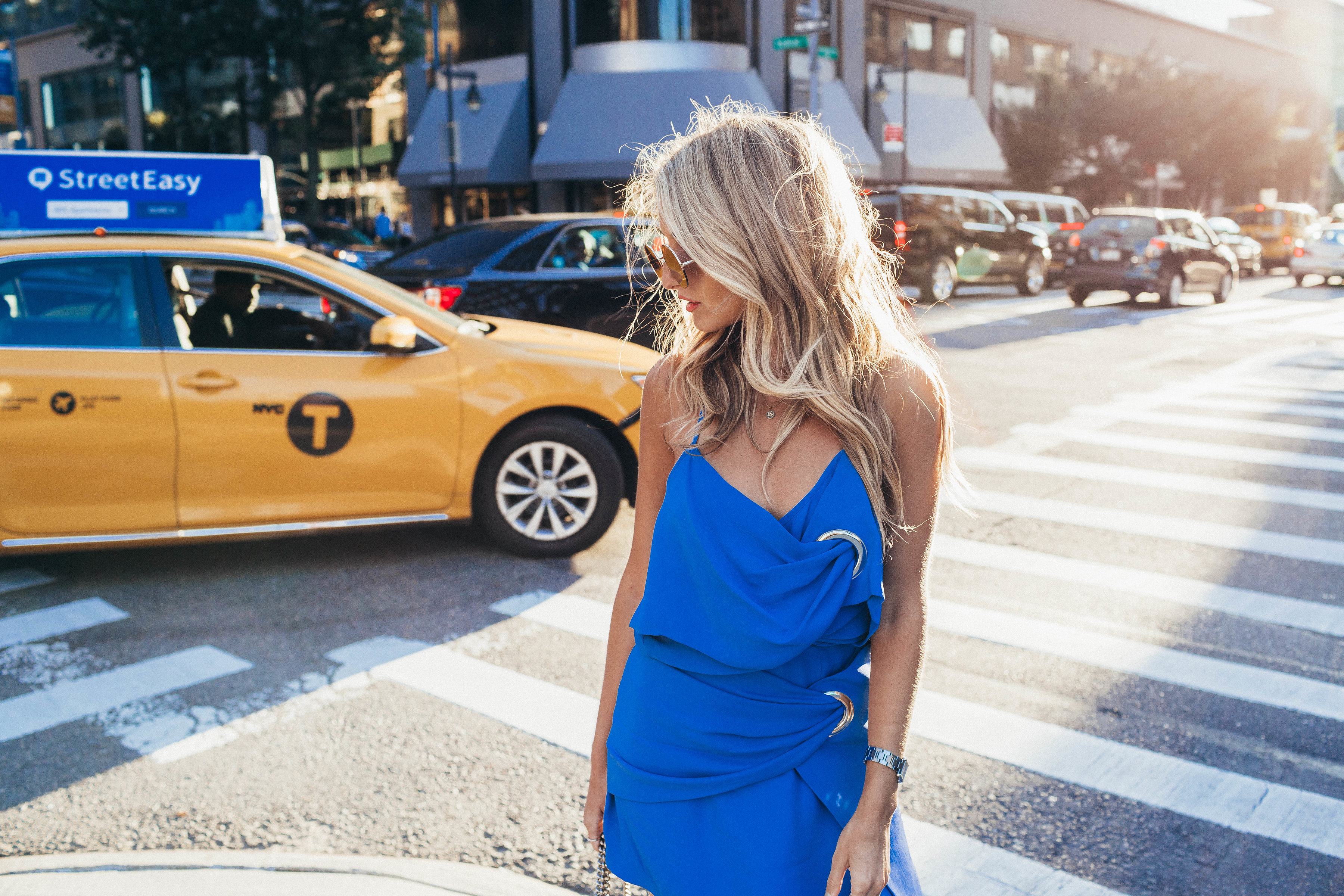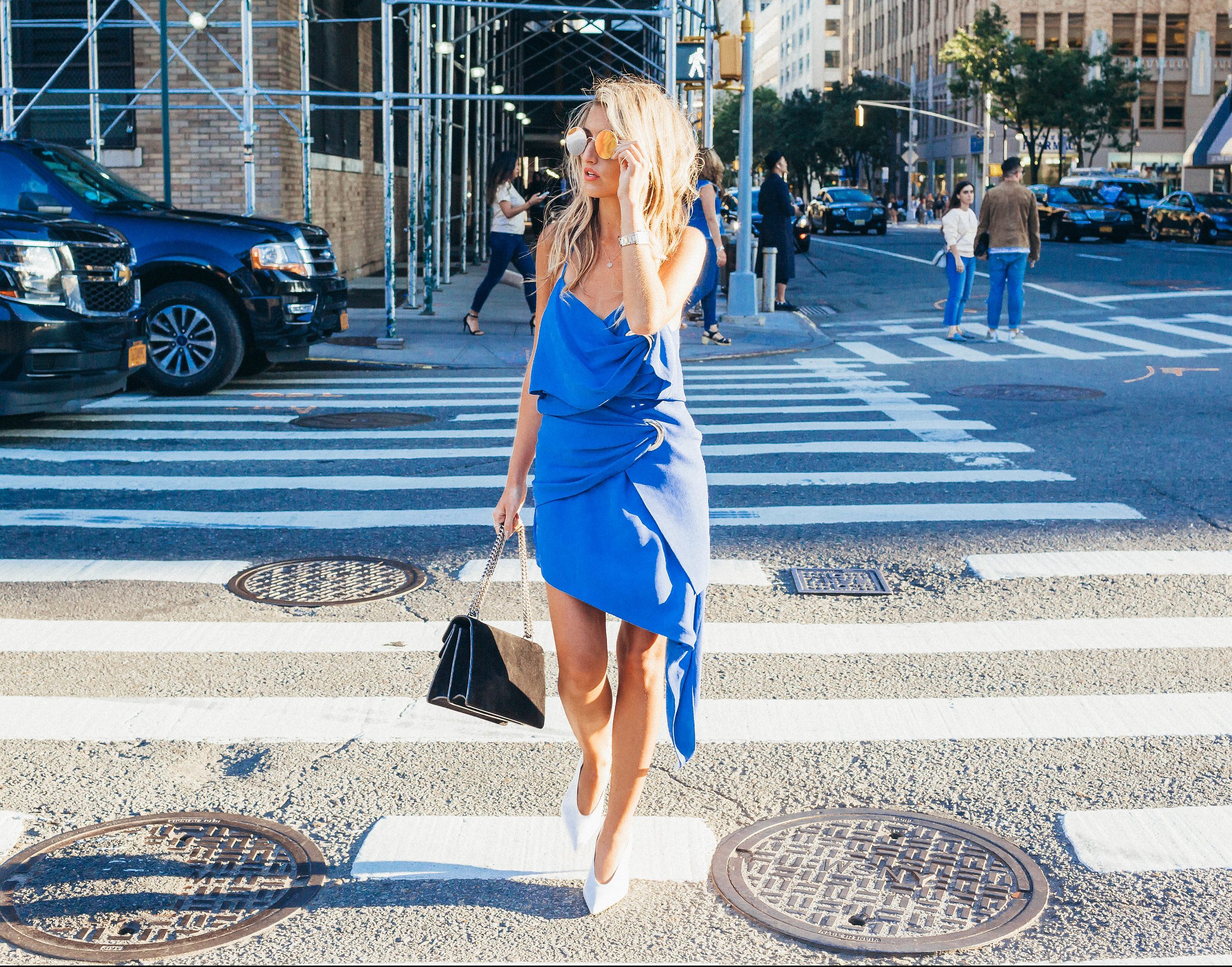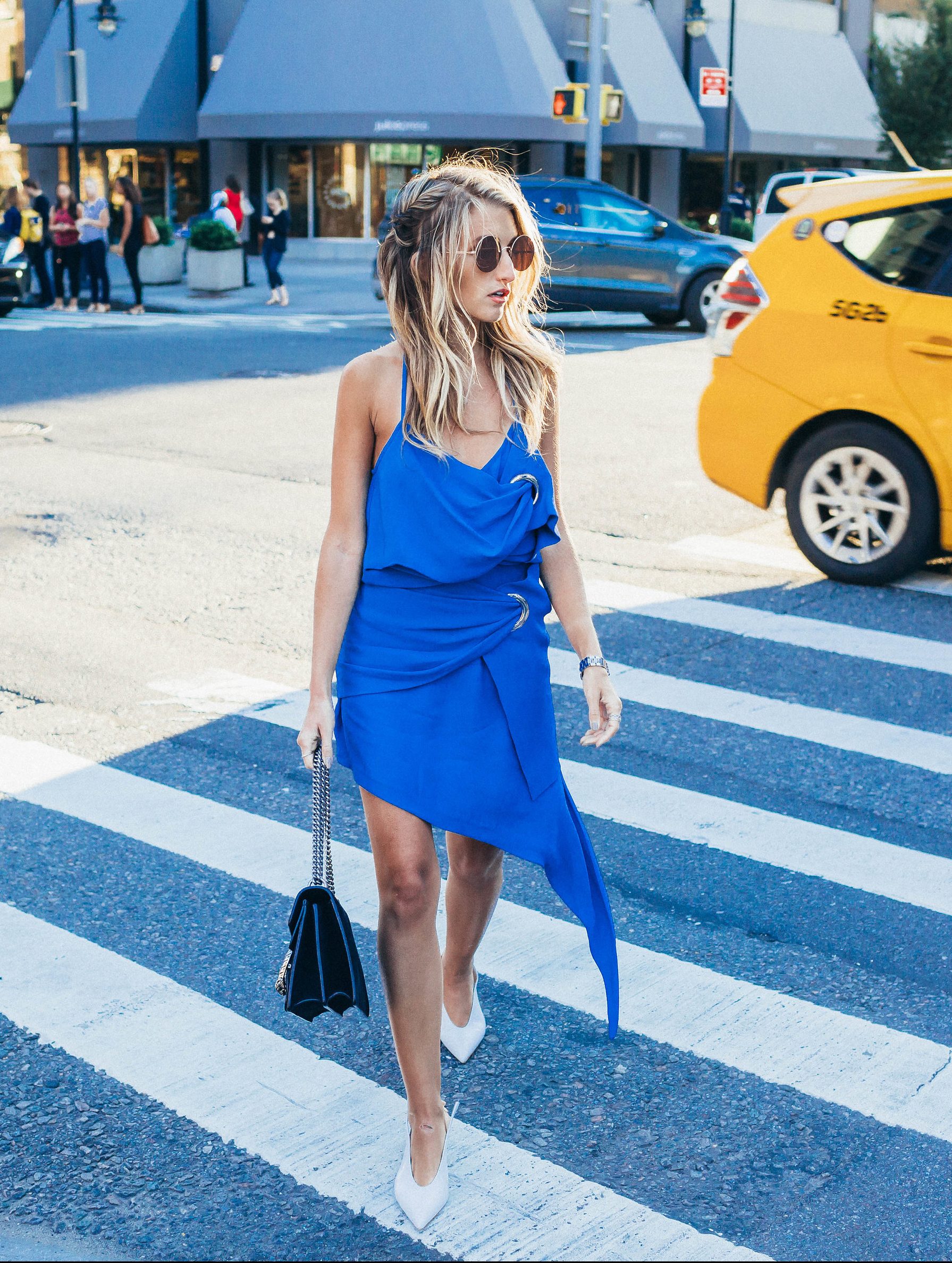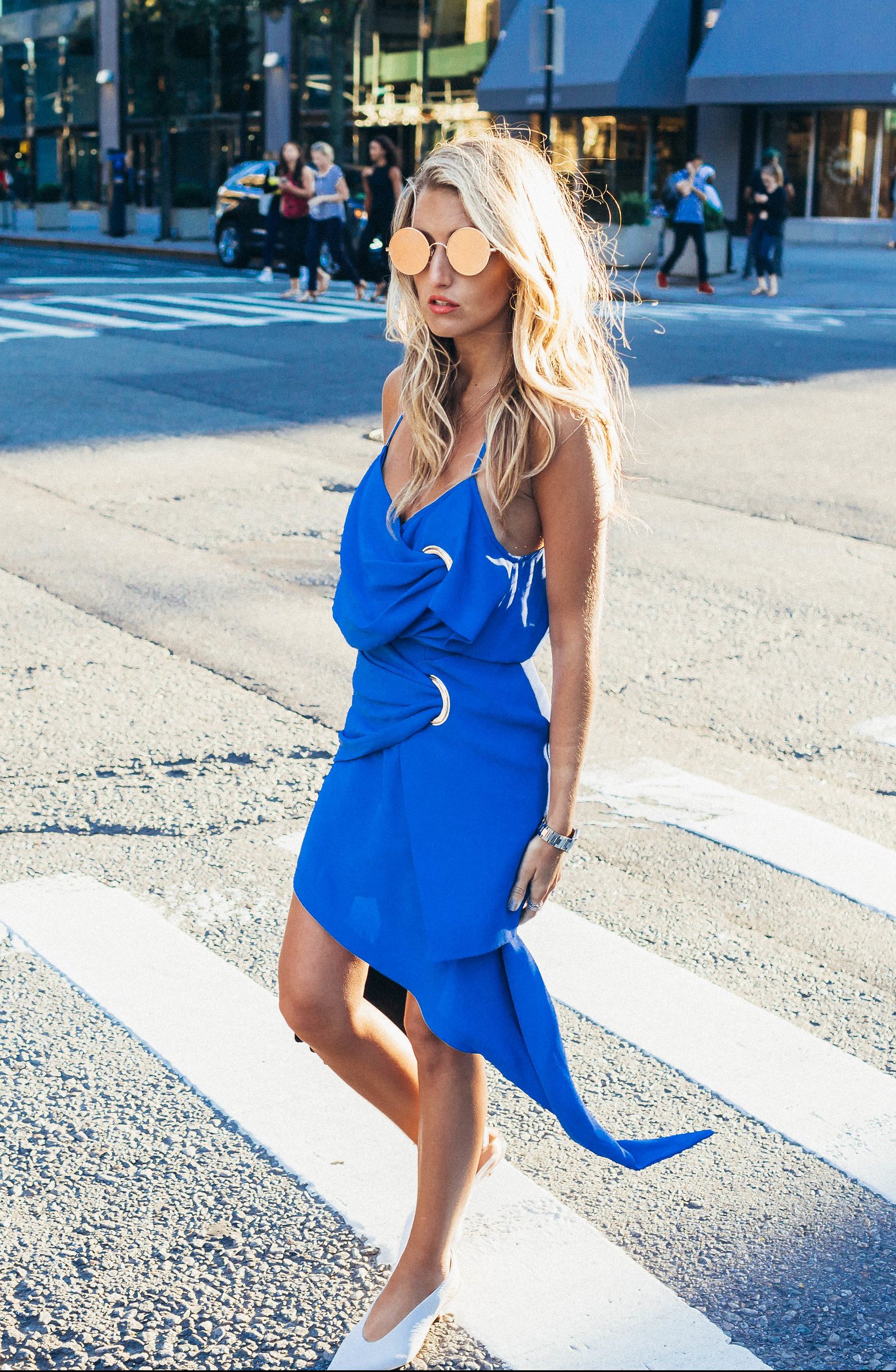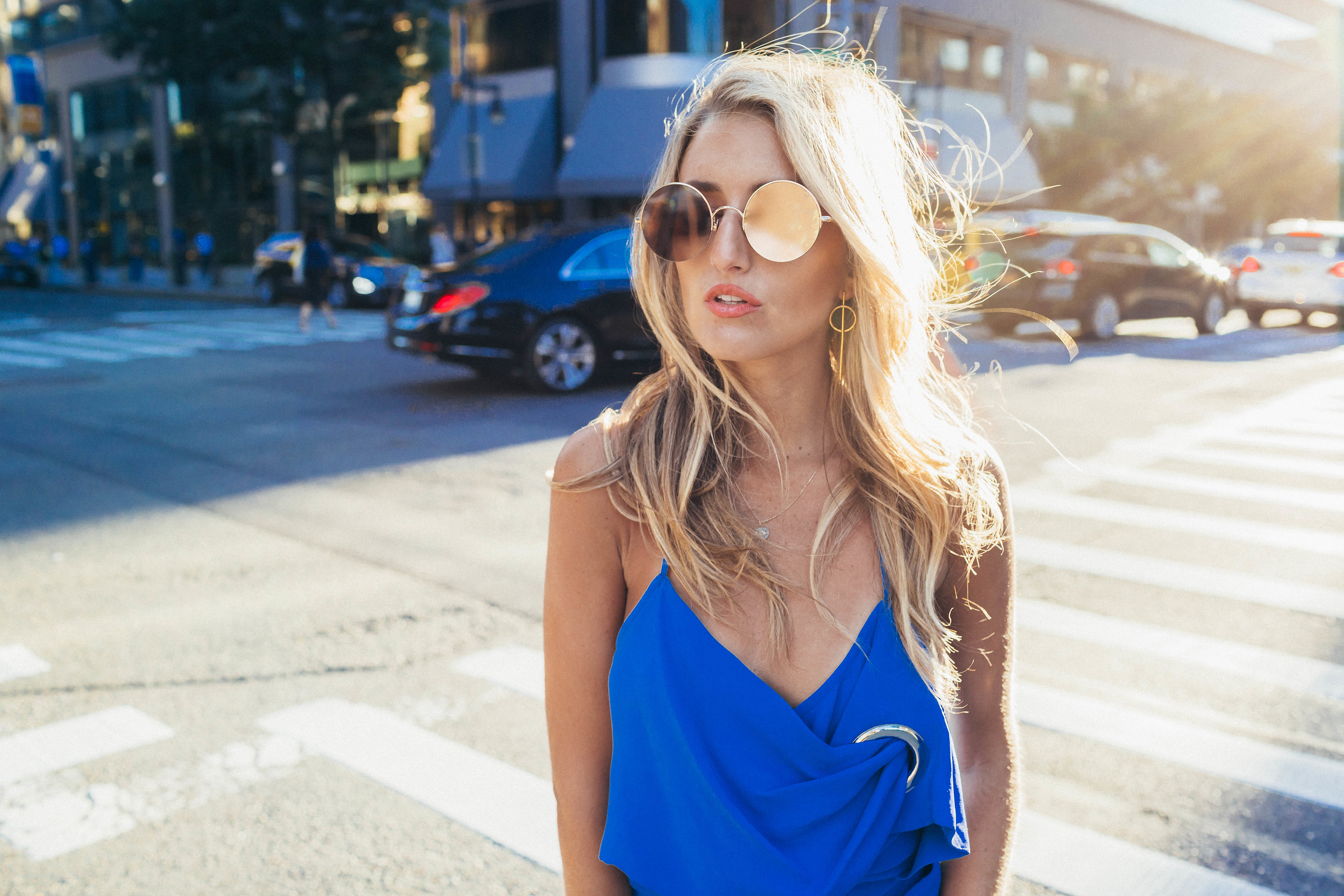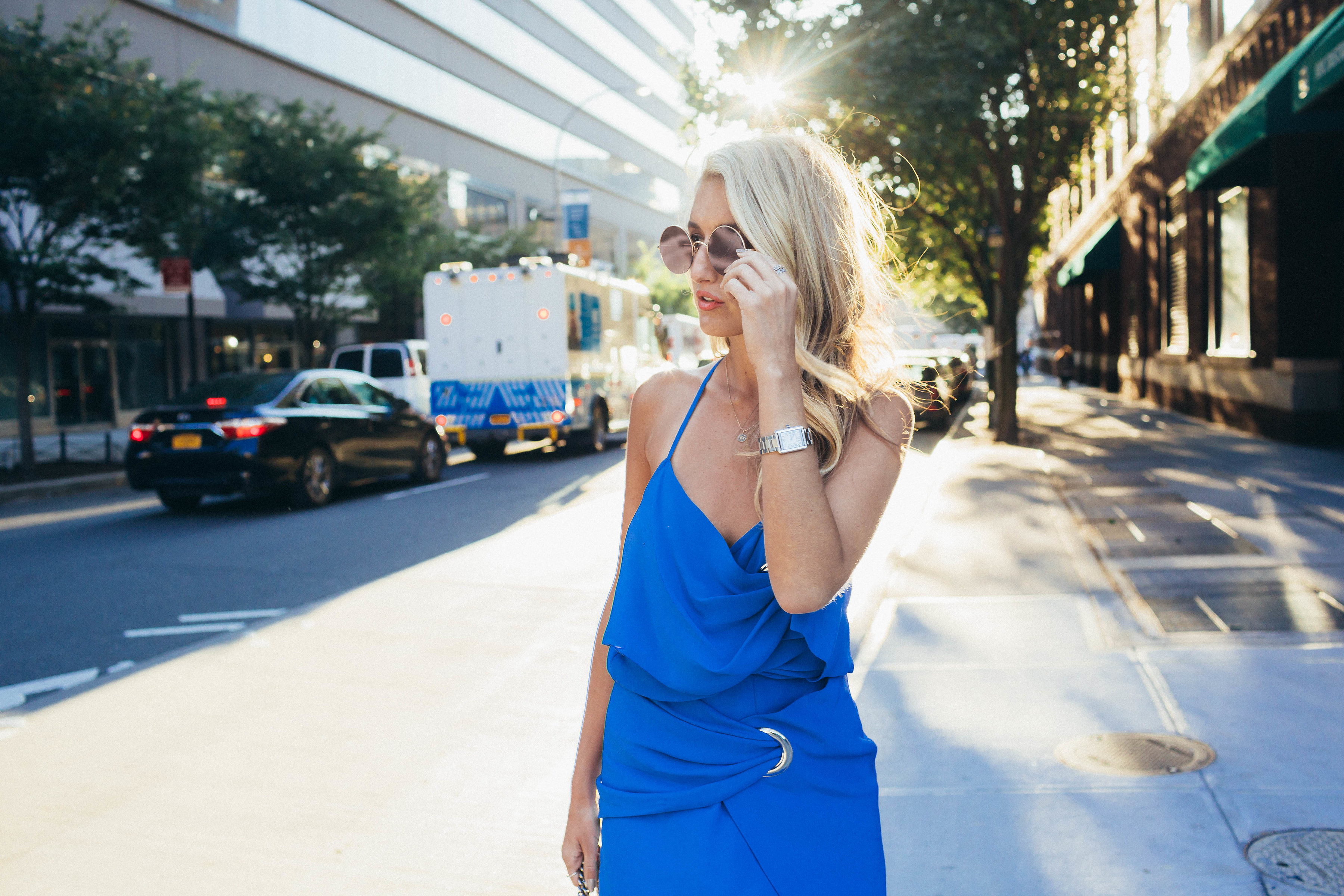 One trend I saw a lot of during fashion week that I don't think is going anywhere fast is the white shoe trend. I'm going to share my 3 tips on how to style them but first how is this a thing? It all started with the white sneaker trend. While that was eye-catching, the way it's playing into fall has slightly more of a "wow" factor. The white shoe trend for fall is something fresh because white shoes are normally something we would retire by the time fall rolled around even if we didn't believe in the "no white after Labor Day" rule.
I wore the white shoe trend during fashion week and it honestly transformed the look of this cobalt set. If you picture the outfit with black, nude or even red shoes it just doesn't work as well as the white shoe trend does. This outfit in particular sold me on the white shoe trend. So how do you style the white shoes anyways?
Here are a few things to consider when styling the white shoe trend:
 Make sure they are appropriate for the season – In this case I mean season as in fall and winter. Just because white shoes are in doesn't mean that you can wear your summer white strappy sandals in October. This is not what that means. For example: I'm in a seasonally appropriate kitten heel for September in New York. In October/November a white boot would probably be more appropriate (at least in New York). I honestly would have called this the white boot trend but I think there are a lot of versions of the shoes I'm wearing that are really popular right now too. I would keep the white shoe trend to consisting of ankle boots and something similar to what I'm wearing such as a kitten heel slingback or boot.
Don't dress around it – What I mean by this is don't think that since you're wearing white boots that you have to wear a certain colored shirt, etc. The whole point of the white shoe trend is to put it with an outfit as is (without dressing around it) and rocking it. If I went out thinking, I need an outfit to wear the white shoe trend with I can guarantee you that my NYFW outfit wouldn't have worked as well as it did
Keep them clean – The same holds true to the white sneakers but be aware of when they look dirty and too worn. I would be sure to get a material that's a little more durable or doesn't easily stain. The white shoe trend is a hard one to keep clean but just be aware of where you wear them and the material and you should be ok. Hey, it's not called the off white shoe trend…
I love the combination of the white shoes with the pop of cobalt. This set is so amazing but I unfortunately can't find it online anywhere. It's by Bless'ed Are The Meek though and they have a lot of unique, structured pieces if that's what draws you about this one. The ironic thing about this entire post is that the white shoes I wore completely broke a few hours into wearing them. I won't link to the exact pair I'm wearing since I don't want that to happen to any of you but I've linked to very similar ones.
Let's more on to accessories now. I love the combination of the suede Gucci bag with the white shoes because it definitely adds a standard fall material. I also loved the metal details throughout this look. The metal rings on the top and the skirt play off perfectly with the gold earrings and the Gucci bag.  Next up on the accessories list are these sunglasses. Honestly, it has taken me the longest time to find a round pair of sunglasses that I liked but these are quickly one of my new favorite pairs. I think the shape is super fun and goes well with the overall look. I love the lenses on them too.
What I Wore: Set: Bless'ed Are The Meek // Hair: Redken // Bag: Gucci // Shoes: Similar and also similar // Earrings: Vestique // Sunglasses: Sunday Somewhere 
Shop My Look:
Shop the White Shoe Trend: