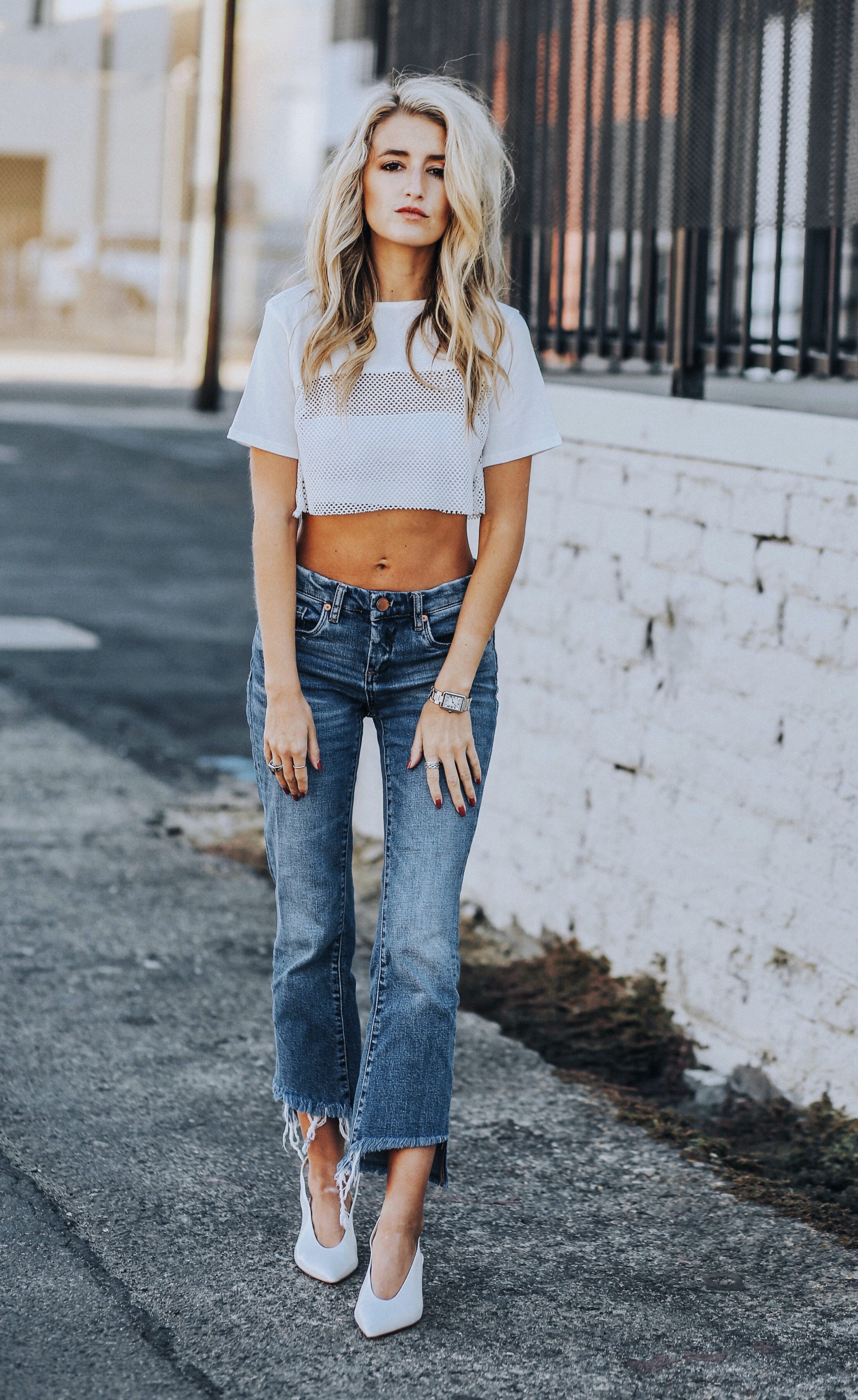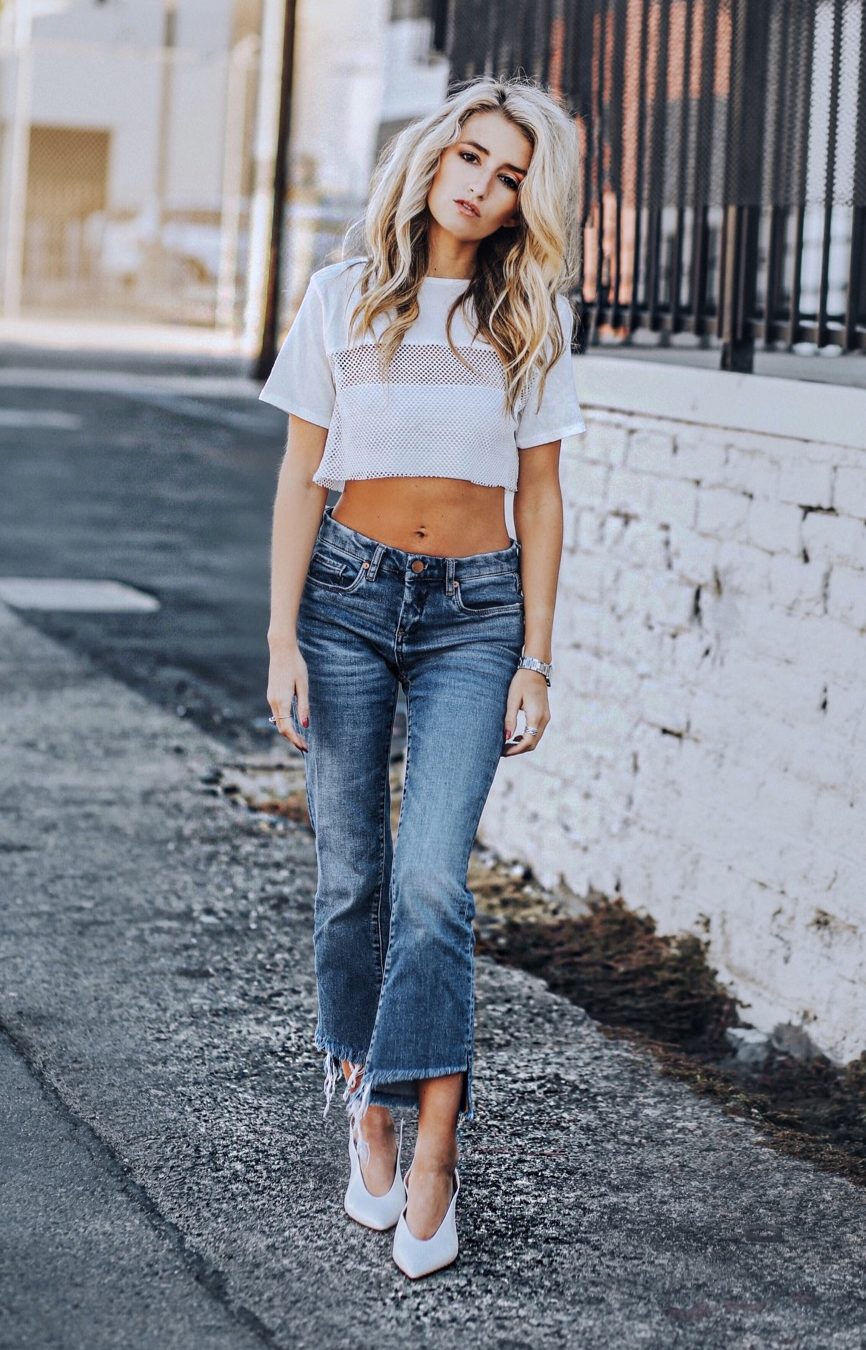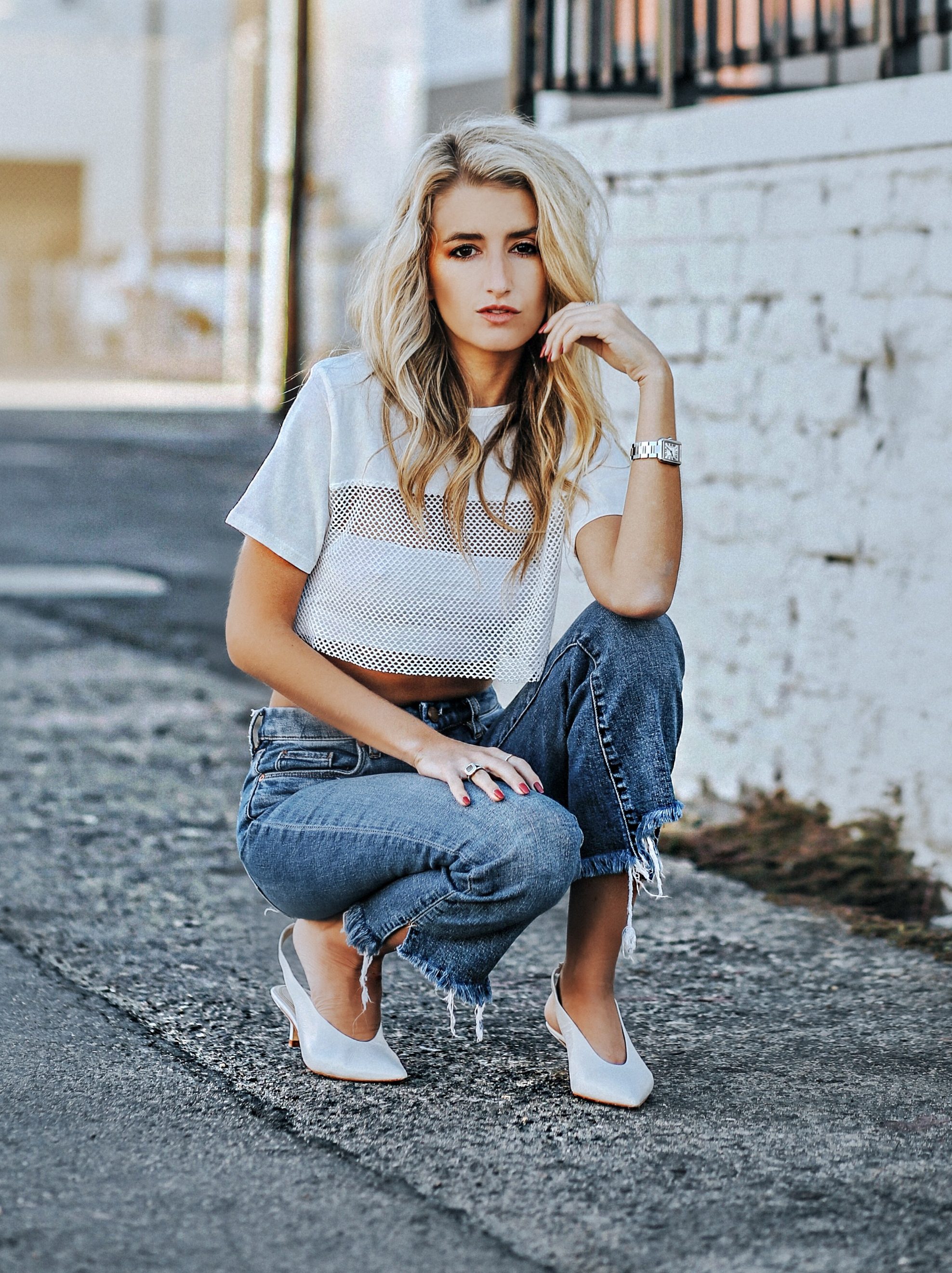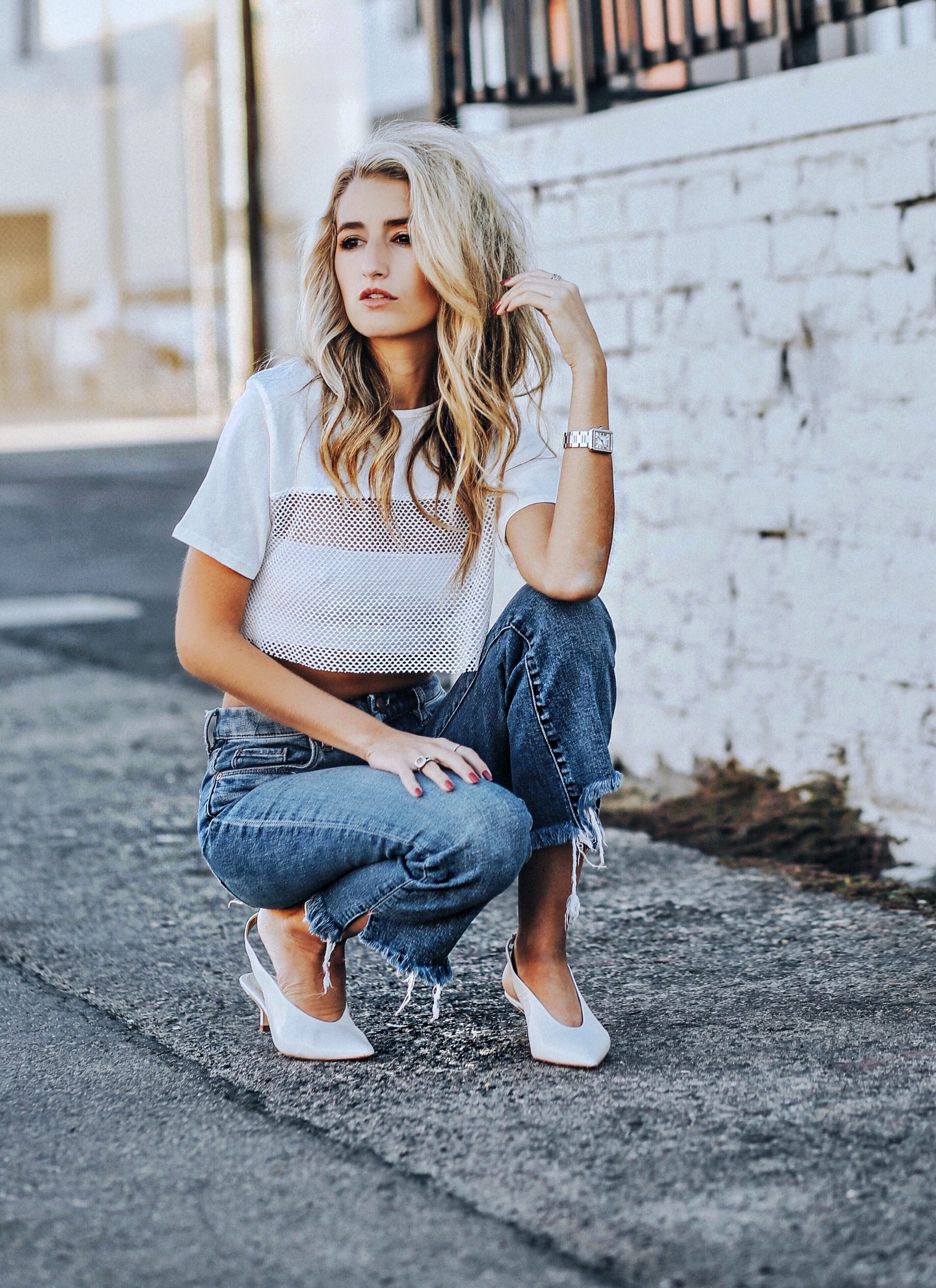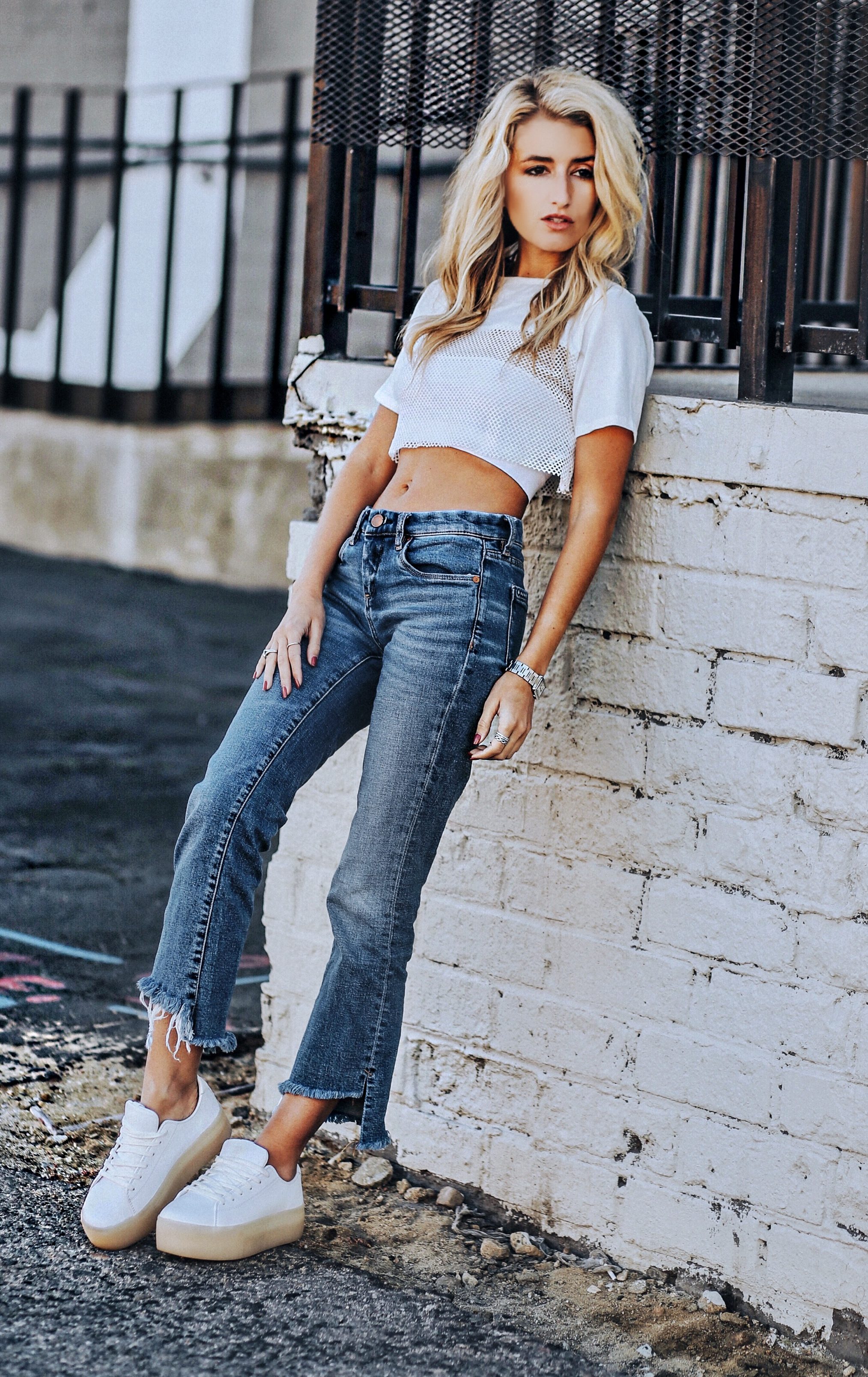 This post is all about how a pair of shoes can transform an outfit and we're using two of fall's most popular shoe trends as an example. It's really crazy how much the look can change based on one small thing. Let's talk about the base outfit before we go into how a pair of shoes can transform an entire outfit. I feel like athleisure pieces are becoming a more integral part of our closets and are less athleisure and more just how things are right now. Thought? I wore the jersey crop top with these unfinished jeans and I thought they worked well together because the jeans aren't too tight and are slightly boyfriend which was perfect with the length of the jersey. Ok now on to how a pair of shoes can transform an entire outfit.
Pair 1: White kitten heels
 I love mixing unexpected pieces together like a jersey crop top and a pair of white kitten heels. To be honest with you, this worked much better than I thought it would if you were to just tell me to wear a crop top jersey and kitten heels. The white kitten heels aren't too high so it doesn't look trashy with the jersey crop top. The white kitten heels actually kind of elevate the jersey crop top and make it look high fashion.
Pair 2: Platform (light up – no I'm not joking) sneakers
I switched out the white kitten heels for these platform light up sneakers for a more relaxed weekend look. This change is the perfect example of how a pair of shoes can transform an entire outfit. Yes, these sneakers light up! Seriously, how cool is that?! There are a few different light options and you can turn them off completely too. You also need to charge them. They're amazing! The white platform sneakers definitely played into the sportier side of the jersey crop top but it still totally works.
It's crazy how shoes can transform an entire outfit! This is probably an important time to call out that if shoes can change a look this much they can probably ruin a look this easily as well. Investing in a few different styles is key and in this case, you got two different looks out of it.
What I Wore: Jersey crop top: Pretty Little Thing // Jeans: BlankNYC // Pair 1: Urban Outfitters (similar) // Pair 2: My Pop Shoes
Shop My Look: